Trusted Professionals and Partners
Elliance Sdn Bhd is a Malaysian based company started in 2011 specializing in the provision of industrial LAN/CLOUD based automation solutions. Elliance are a team of IR 4.0 consultants who are well-versed in the various fields of manufacturing providing expert help at the different stages of implementation in the journey toward being a smart factory (IR 4.0). Elliance offer solutions in the study of manufacturing processes and assist manufacturers by providing hardware and software solutions to meet IR 4.0 standard.
D3 Innovation Sdn Bhd partner as marketing arm in Electronic Product Design (Specialize in IOT) and Integrated Mechanical Design. D3 also provide manufacturing services from PCBA assembly, plastic injection mechanical casing, complete product assembly, and packaging. D3 do support short lead time and small volume turn-key solutions.
Spectre Solutions started as industrial training company, RF module and wireless system design service and RFID system provider. Expanded to renewable energy system provider which include hybrid system design and inverter circuits. Example of design include solar tracking renewable energy system. Embedded system design using microprocessors and microcontrollers. Integrate with renewable energy system and off-grid wireless communication system.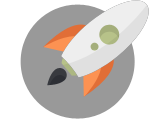 We're Here To Help Your Business Blast Off!
Through Creative Ideas, Innovation & Sheer Determination